Once upon a time, I used to live and die by my Co-Star predictions for any given day. I would wake up, read whatever bizarre sentence the app conjured up based on my astrological placements, and convince myself that that was my destiny for the next 24 hours. Though I have long since abandoned this obsessive attachment to my horoscope, I remain deeply proud of my double Scorpio sun and rising placement and will take any and every chance to talk about my zodiac. If all of this sounds very familiar to you, congratulations: You likely have someone in your life who definitely wants to receive a zodiac or astrology-related gift this holiday season.
From journals that will help them dig deeper into the meaning of their star signs to clothing that allows them to quite literally wear their zodiac signs on their sleeve, we've rounded up the astrology gifts that will become instant favorites for anyone who uses their zodiac sign as their defining personality trait. This list will automatically calm just about anyone who can't seem to go a day without checking their horoscope; here are the best gifts to buy the person in your life whose zodiac sign is their favorite thing about themselves.
The Mayfair Group
If they're always acting up and blaming it on their Co-Star reading for the day, this is the perfect T-shirt to gift them this holiday season.
Papier
Choose between dotted, lined, or blank pages in this stunning zodiac-inspired notebook. Each sign features a unique cover design and signature color.
Caitlyn Minimalist
This skinny zodiac signet ring is perfect for the minimalist astrology lover in your life. Available in three different finishes to match the taste of your giftee.
Free People
No matter their star sign, chances are they'll love a cute and great-smelling gift like these zodiac candles, which come with unique labels in a cute pop of color.
Magic of I.
This comprehensive astrological planner is perfect for anyone from the Astro-curious to the seasoned professional, with a life guide incorporated into the daily and weekly spreads based on the currents of the stars.
Uncommon Goods
This class with an expert astrologer is an amazing way to give the gift of learning to your astrologically inclined loved ones. For 75 minutes, they'll learn all about interpreting their chart and reading the stars.
Etsy | FrankiePrintCo
Got an astrology-loving homebody in your life? They'll love this zodiac blanket, which comes in various designs with fun fringes for a chic boho look.
Gorjana
If they're looking for a subtle way to show pride for their zodiac sign every day, look no further than this reversible zodiac necklace from Gorjana.
Uncommon Goods
For the friend who always loves to point out that astrology is not just about your sun sign, this is the perfect gift. This birth chart book provides a detailed guide to the planets and houses.
Girl Dangerous x Anthropologie
We're obsessed with this Girl Dangerous x Anthropologie zodiac sweatshirt, which is super comfy and features fun designs to correspond with each sign.
Nordstrom
They'll be able to wear their star sign on their wrist forever with this delicate sterling bracelet, which features their sign's constellation on a goldtone or silvertone plate.
Birthdate Co.
Choose from 365 beautifully crafted candles to give a truly meaningful personalized gift with this zodiac birth date candle, which features a personality description and a custom scent.
Fable England
This elegant viscose satin pajama set features a beautiful design that blends classic tarot card symbols with flora and fauna for a stylish slumber.
Benson Bobrick
Astrology has a long and complicated history, and anyone who loves to know more about their zodiac should also dive into the origins of the practice with this book.
Zodica Perfumery
With this zodiac perfume, they'll channel their highest cosmic energy. Each sign has its own carefully crafted scent blend, so they'll feel like their truest selves whenever they spritz.
Piecework
These incredible Piecework puzzles come with stunning pictures and designs to correspond to each zodiac sign, making them both a game and a cool decoration.
Anthony Louis
If you have an astrology lover who's looking to delve even further into the world of the mystical and esoteric, this tarot guide makes for the perfect gift as they embark on their tarot journey.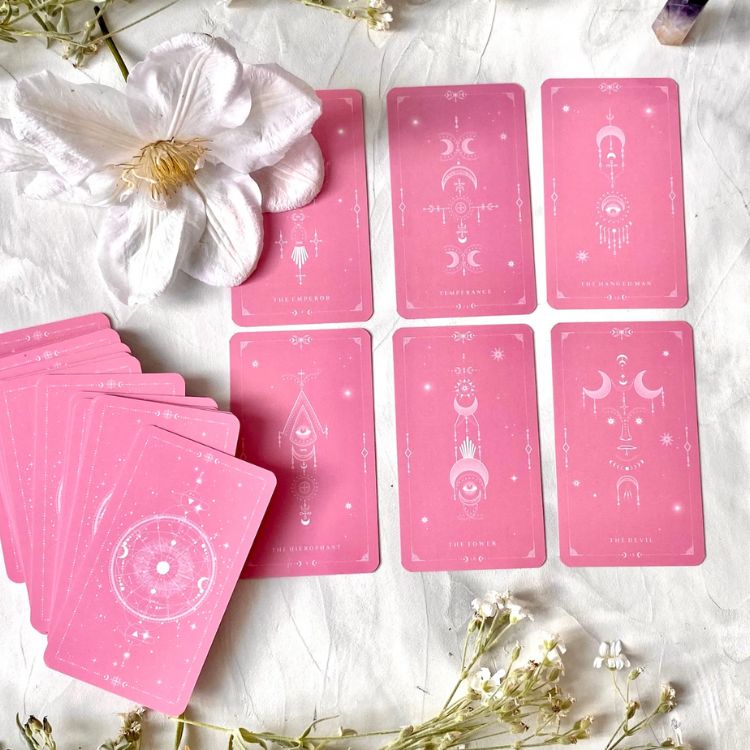 Etsy | TarotCardsDarkForest
We're obsessed with the minimalist pink design of this tarot card deck, which is the perfect gift for anyone looking to tap into their spiritual side this holiday season.
Melt Cosmetics
Each sign can reclaim their "bad" zodiac traits with this eyeshadow palette from Melt Cosmetics, which features options for earth, water, fire, and air signs.
Intelligent Change
Dreaminess is a quality all astrology lovers share, which is why they'll love this night sky-inspired dream journal for recording their nightly musings.